Information

A wonderful and distinctive Christian school
8:45 The gates are opened
8:55 The gates are closed – if you arrive after 8:55 am please enter through the main school entrance.
9:15 Registers close and if your child arrives after this time, they will receive an unauthorised code (U)
As soon as children enter the school, they begin to get busy with either reading or maths work. This is why punctuality is extremely important to us here at Mottram.
As you can see from the image below even 5 minutes a day late has an impact.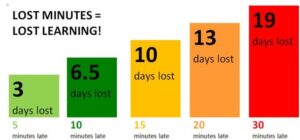 9:15 – 9:30 Collective Worship
9:30 – 10:20 Lesson
10:20 – 10:35 Playtime for all children
10:35 – 11:00 Phonics for Reception, Year 1. Spellings for years 2-6.
11:00 – 12:00 Lesson
12:00 – 1:00 Lunchtime for all
1:00 – 3:15 Register for all followed by lessons this could be a blocked lesson for topic work or a number of lessons over the afternoon. A break is taken by all when needed.
Total hours for the week = 32.5